Center of Joy Church of God in Christ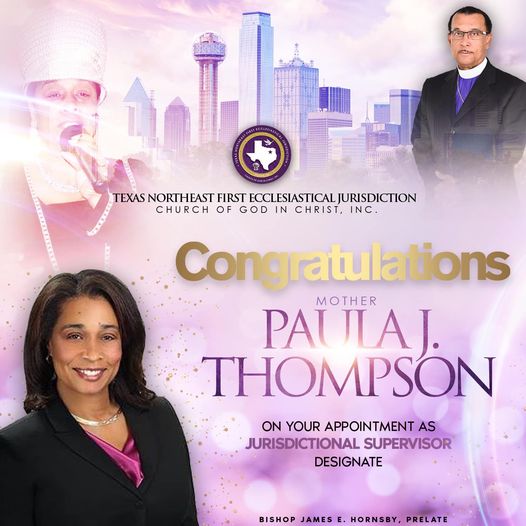 Congratulations to my loving wife, Lady Thompson. Let's pray for her in the new appointment as State Supervisor of the Women Department, Texas Northeast First Ecclesiastical Jurisdiction.

Greetings in the name of our Lord and Savior Jesus Christ! I am Elder W. McArthur Thompson, the Pastor of Center of Joy Church of God in Christ. My wife is Evangelist Missionary Paula Thompson. Center of Joy COGIC is a ministry God has birthed in me. We are committed to the development and discipleship of believers, and for the edification of Christians everywhere. We encourage believers to study, pray, fast and seek Biblical advice. You may request prayer, and any other counseling needs by contacting the church, the Pastor, email or use any other online resources that are available on this website.
Our mission is to engage in winning souls for Christ. We teach how you can seek and find your purpose. We teach that there is difference between Holy and unholy. Trust God with everything, then began to praise God for who HE is and for what He is about do!

We are a Holiness Pentecostal church. A member of the Church of God in Christ, Inc. We thank the Lord because He has given us the victory over the devil. The church is located in Fort Worth, Texas near Roanoke & Keller in the North Fort Worth area. We are approximately 15 minutes north of downtown Fort Worth, 15 minutes west of the Dallas/Fort Worth International Airport, and only minutes away from Alliance Airport.
I look forward to the many souls God will deliver through this ministry. Our prayer is that God will lead and keep you. Be blessed!

Pastor W. McArthur Thompson

For more information, please call us at 817.491.8587 and one of our members will be very pleased to help you.
Fort Worth, Texas 76262
817.491.8587 | Main
844.269.8624 | Fax
Mailing Address:
P.O. Box 2235
Roanoke, Texas 76262